Social Media Marketing (SMM) is the biggest "buzz" word of the past few years. Everybody is raving about Social Media, and rightfully so – as advertising costs are still relatively low. Your target audience is on Social Media networks, and this is where you should engage them.
---
Everybody is on social networks, your customers included. Put your business in a position to connect and interact with them, and continue the conversation already going online. Social media campaigns also assist in brand recognition, loyalty and authority, increased inbound traffic, conversions and SEO benefits.
Since 2009, we've helped dozens of businesses expand their reach to Facebook, Twitter, Linkedin, Google+, Pinterest, Youtube, Foursquare and other social networks. Our services include planning, content creation, adding images, tracking and reporting.
Social media outreach
Increase brand awareness
Interact and engage with your audience
Measure and track success
Boost your leads, sales and ROI
Personal customer care, in your time zone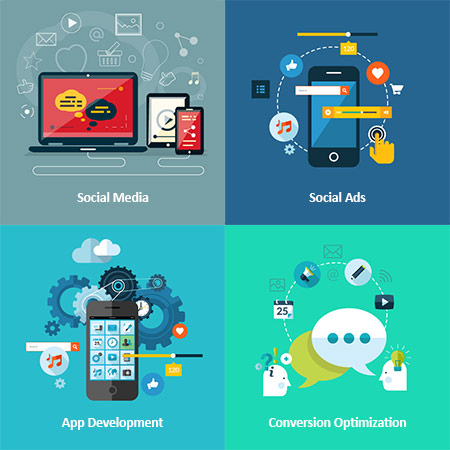 Our dedicated team will help create engaging content, ready to fuel social media conversations and interact with your audience, while boosting your fan base, followers and social sharing.
Smart social media strategies also include paid campaigns, which help delivering your social content and promotions to your target audience at the right time, when they are ready to interact and engage. Social media is also an important part in organic search engine optimization, as search engines incorporate social signals, comments and sharing into their search ranking algorithm.
Social media marketing is not just getting more "likes" – when done right, it actually brings in new traffic, leads and sales. Let our team of experts manage your social accounts, engage and interact with your audience.
Social Media Services include:
---
Strategy & Planning: Don't know where to start? We will help you research the social landscape in your market, outline the opportunities and recommend specific actions.
Competitive Analysis: Researching and identifying your competitors' tactics and participation in social media networks. Learn from their hard work what venues and channel may benefit your social media strategy.
Social Profile Setup: Identifying the social networks you should be present on, designing and developing custom branded pages for Facebook, Youtube, Twitter, Pinterest, Google+ and more.
Social Content: Researching and creating content and updates that enrich your social pages, create real interest and steer the social conversation.
Graphics and Widgets: Enriching your social media pages with custom graphics, icons, badges and widgets that will position your business as and industry authority.
Social PPC: Setting up and managing social media ads, paid inclusion and sponsored content. Social advertising will improve your online presence, expand your brand awareness and increase user engagement on social media platforms.
Social Engagement: Interacting and engaging with your target audience, enriching customer experience through sharing, commenting, posting images and videos, and participating in the social conversation.
Analysis and Reporting: Our social media reporting, analysis and insights will help you gain valuable information and understand your social metrics, identify trends and inclinations in the market and position your business accordingly.

Among Our Customers:

What Makes Us Different?
---
At Momentum Plus, we help companies around the world achieve their business goals through expert online marketing services.
We provide high standard, reliable services using best practices and proven strategies.
We harness over a decade of hands-on experience in search engine marketing, Pay Per Click advertising, web design and much more. Whether your goals are traffic, leads or revenue – we have the right solution for you.
We think differently for every client, learning and understanding their market, their needs and their goals, brainstorming, strategizing and executing profitable campaigns.
What sets us apart from other companies, is how much we love what we do, and our attention to details in every single campaign, landing page or ad copy – down to the tiniest task.
We take our work very seriously, yet "spice it up" with creativity, originality and a touch of insight.
We are proud of our personal and dedicated customer care and strive to deliver the best customer experience possible.
We are a fast-growing, creative and dynamic company, providing results-oriented, Google qualified solutions (click to verify).

Need an experienced team to optimize your website for search engine
ranking and get more business results?

Click Here to contact us